Many people have trouble talking about their achievements:
Introverts can get nervous when the spotlight points our way;
Many women have been taught to not "brag" about themselves; and
People who are shy or have the Helper public speaking personality can worry that highlighting their own accomplishments will take credit away from the team.
All of these are valid reasons for underplaying our achievements. But the problem is, if we don't stand for ourselves at work, who will stand for us?
And that problem is even greater in a job interview, where we are expected to say positive things about what we've accomplished in previous positions.
For Job Interviews, You Must Be Able to State Your Achievements
Becoming an expert on your own success — and being able to state what you've accomplished — doesn't have to be an arduous or painful process.
Learning to tell a business story, and then telling stories about your success IS NOT ABOUT YOUR EGO.
It's about practicing some very specific skills, and applying them in a way that will help you reach you bigger goals, whatever those are!
I also suggest that you download and read this two page article: "Bragging Rights," by Andrea S. Kramer, Esq.
Although Kramer is writing for women lawyers, her insights and examples are relevant to everyone who needs help in putting their best foot forward, and telling the truth about their accomplishments, well.
---
Want More Help with Job Interviews?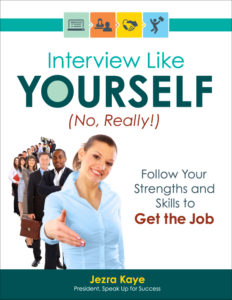 And if you'd like my help with interview prep, just contact me for more information.