I've spent more hours than I'd care to admit binge-watching  an old reality TV show called Say Yes to the Dress. (Men, stay with me; I swear this applies to you, too!)
The show is set in Kleinfeld's, a famed NYC store that stocks 2000 wedding dresses.
Real women are pretty scarce on TV, but since Kleinfeld's employs 250 of them and serves 50-100 customers every day, the show is a primer on the lives of working women, and on the hopes, dreams, insecurities, finances, and family relationships of American brides.
But you may be wondering…
What Do Public Speaking and Wedding Dresses Have in Common? Self-Acceptance Makes Them Work!
What I learned from my PhD-level perusal of dozens (hundreds?) of women buying dresses on Say Yes to the Dress was this: The brides who love how they look in their dresses are the ones who genuinely appreciate themselves. Self-acceptance gives them a glow of confidence and beauty.
And the same thing is true of public speaking:
You can be the world's greatest expert on a fascinating topic.
You can be warm, intelligent, passionate, and well-prepared.
You can have a speech that almost sings as it comes out of your mouth (and if you've written it with me, that's the kind of speech you'll have).
But, without self-acceptance, you can't accurately value who you are and what you bring to the table.
How Criticism Can Cripple Us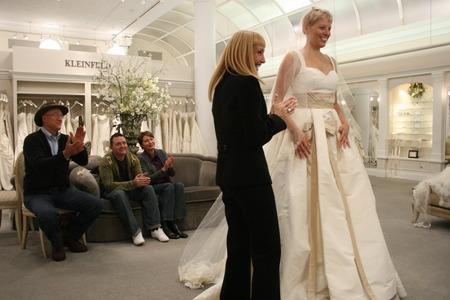 You won't be surprised to hear that happy brides who love how they look in their wedding dresses come to Kleinfeld's with people who cherish and respect them.
Their friends and family give honest feedback, but they don't nit-pick or criticize. They build the bride up instead of tearing her down.
Many of the public speakers I work with did not get honest, loving feedback as kids. (Let's face it: most people don't.) They were criticized, they were nit-picked, they were humiliated — and now they can't understand why they find it hard to speak in public.
You can see the same confusion they feel writ large on the faces of those  Say Yes to the Dress brides who have cruel, belittling, or hyper-critical families in tow. The sniping, jeering, and belittling comments from their family members and "friends" make them feel ugly, and no dress can overcome that deficit.
It's hard to develop (and hold onto) healthy self-acceptance when the people who should delight in us are thoughtless or harsh in their appraisals.
So is it any wonder that so many of us fear being (harshly) judged when we speak in public?
Jane Parsons-Fein, a master hypnotherapist who has helped my clients with issues of self-acceptance, says,
If on some level you are anxious that the audience will judge you, they will pick up your fear. They may not know what's bothering them, but somewhere deep down, they'll be uncomfortable.

But if you are at home with your inner self, and your body reflects it, the audience will resonate with acceptance and relief, even when you make a mistake."
Self-Acceptance is a Public Speaking Skill!
It's fun to have great content, a quick wit, a wonderful delivery, or a polished speech.
But you can have all of these assets and more, yet  — like a bride who doesn't see her beauty in the mirror — fail to value and enjoy them, because you aren't comfortable with yourself.
Many of us want to be "perfect" public speakers. But (particularly since that's impossible!), isn't it better to be public speakers who are valued and accepted by ourselves as well as our audiences, even when we're not perfect?
Let's all say Yes!
---
In 25 years of speaker coaching, I've helped my individual speaker coaching clients develop their strengths and skills to become authentic and effective communicators.

Along the way, I've developed tips for everything from small talk to speaking up in meetings, from managing fear to making an impact.

And now, I've shared it all in 100 Top Public Speaking Tips: The Book. This beautifully designed PDF booklet is searchable, clickable, and categorized, so that you can find what you need, instantly.
---