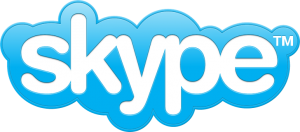 Skype Isn't Perfect
The screen image can be grainy, the sound quality shrill.
But — in exchange for the occasional minor annoyance, which is usually solved by re-placing the call — I get to work with clients from countries like Argentina, Austria, Oman, Rwanda, and Singapore.
And — in exchange for the occasional minor annoyance — you get to work with someone like me!
Why Is Skype Almost as Good as Being There?
When you're in a speaker coaching session, you're concentrating hard, and so am I!
We're putting our heads together (by definition, that's an intimate process) to analyze your public speaking challenges, and identify the ideas, best practices, and skills that will help you overcome them and succeed.
That can happen in a big room… but it can also happen on a small screen.
Either way, it's about working together.
And it's just as easy to collaborate…  just as easy to focus…  and just as easy for me to coach you through whatever public speaking skill we're addressing on Skype.
Skype Isn't Perfect… But Speaker Coaching by Skype Can Be!
Skype plus a decent Internet connection can add up to a perfect experience.
There's no loss of quality, and no compromise (unless you count not getting snacks).
There's no limit to what we can address, and no end to the results we can achieve.
So whether you're in Malaysia or Manhattan…   if you're not able to travel to my home office in Brooklyn, New York, Skype is usually the perfect solution.
Are you ready to try a Skype session?
Contact me, and we'll get the ball rolling!