Millenials: When you speak, it can be hard for members of older generations (like mine, the Baby Boomers) to hear you!
That's why we would like to ask you to slow down… add pauses to what you're saying…  and put some periods (hard stops) at the end of your thoughts so that we can catch up!
Why Older Colleagues Need You to Slow Down
Let's get real, here.
Aside from that your hearing slowly deteriorates as you get older, people of my generation learned how to talk (and think!) in a slower-paced world.
When I joined the workforce, at an admittedly young and tender age:
The fax machine had not yet been invented — let alone computers or the Internet;
If you wanted a package delivered overnight, you had to put someone on a plane to hand-carry it; and
Answering machines (and the ability to leave a message if someone didn't pick up when you called them) were a new and controversial technology. (People used to brag about not having them. I swear this is true!)
Are you feeling me?
So for those of you who are willing to try it, here's how you can slow down and help a Baby Boomer do business with you!
Slow Down By Embracing the Humble Pause
Trying to "speak more slowly" is like trying to stop a runaway freight train. You will feel silly, have minimal impact, and give up almost immediately.
But there is a no-fail way to slow yourself down!
Just insert pauses into your speech.
The habit of pausing (which I recommend to people of every generation) has many benefits. Pausing:
Lets your audience absorb what you just said before they have to take in what you're about to say;
Creates a mini-break for you that can be used to regroup, re-evaluate, relax, or focus on your next idea;
Frees you from filler words and sounds (uhm, like, y'know, right, etc.). These sounds inhabit spaces that should be used for pausing, and when you learn how to pause, the null sounds will stop;
Allows you to easily add emphasis and drama; and
Gives you tremendous control of the pace of your public speaking.
In other words, it let's you slow down!
Try This One-Step Method for Making Yourself Pause
Every time, you reach the end of a sentence or idea, stop talking.
This sounds easy, but can be incredibly difficult if you're converting from a wall-to-wall sound approach.
So don't just read this blog post and figure that you'll change the next time you have to speak at a meeting, presentation, or interview.
Instead, decide to master pausing, perhaps with the help of a trusted colleague or friend.
Drill yourself in this new practice, by forcing yourself to add space between your ideas or sentences.
How to Break the Runaway Train Habit
How? In speaker coaching sessions, I sometimes interrupt a client's wall of sound by yelling, "STOP! OK, WAIT! One second. Two seconds. Now GO ON," before I let them continue their thought.
Yelling aside, you can do this same exercise yourself by either thinking, saying, or having your practice partner say, "STOP! One. Two. GO!" at the end of every sentence or idea you speak.
As the habit of pausing becomes ingrained, you'll find that it's not just easier for other people to understand you; it will also become easier for you to speak clearly and concisely. That's two big benefits in one small pause.
Knowing How to Pause Doesn't Mean You Have to Pause — It Just Gives You the Choice
One last point:
Am I trying to turn you into a Baby Boomer sound-alike?
Absolutely not!!!
Knowing how to pause (and how to speak in shorter sentences that end in periods!) doesn't mean that you're doomed to sound like a 45-year-old or 65-year-old whenever you open your mouth.
It just creates the possibility of meeting your older colleagues halfway… and gives you the added public speaking mastery that comes from being able to switch between generational styles. This will help you in business, with your family, and in your life.
So practice slowing down.
Just think:  "STOP. One. Two. GO!" (and act out what you're thinking).
You — and the people you speak to — will be glad you did!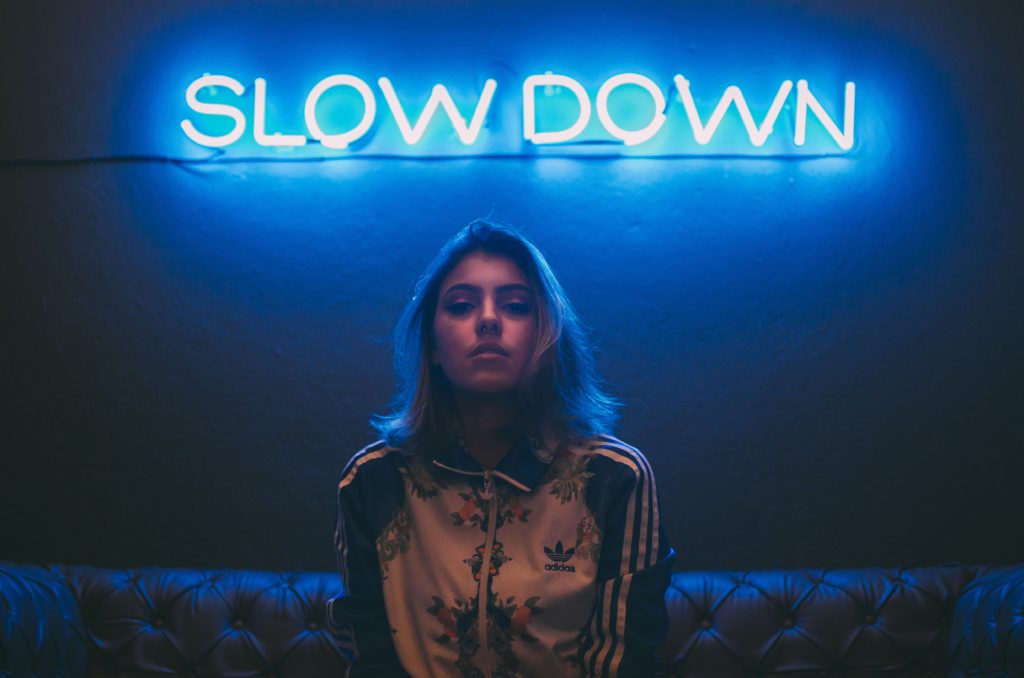 ---
In 25 years of speaker coaching, I've helped my individual speaker coaching clients develop their strengths and skills to become authentic and effective communicators.

Along the way, I've developed tips for everything from small talk to speaking up in meetings, from managing fear to making an impact.

And now, I've shared it all in 100 Top Public Speaking Tips: The Book. This beautifully designed PDF booklet is searchable, clickable, and categorized, so that you can find what you need, instantly.
---