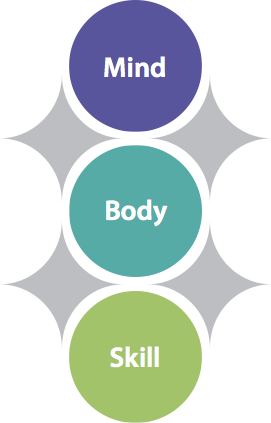 What if you knew that you could build your public speaking confidence and skills by doing an exercise that takes just 15 seconds, twice a day?
You would do that, right?
Well, first, here's the exercise — and then I'll explain how and why it works.
Try This Confidence-Building Exercise. It Only Takes 15 Seconds!
Stand in front of your bathroom mirror (actually, any mirror will do). Stand tall, in a relaxed position.
Breathe out, getting rid of as much air as you can without straining.
As you open your mouth to breathe in again, feel like your Avatar.
Here's an example of a simple, silly Instant Speech:
I'm tired.
— I went to bed late.
— I got up early.
— That probably wasn't smart.
I'm tired.
Easy, right? Yet doing this exercise twice a day, which takes just 15 seconds each time, can totally change your relationship with public speaking.
How Can 15 Seconds of Practice, Twice a Day, Transform Your Public Speaking?
This exercise works by addressing the two biggest fears that people have about public speaking, briefly and effectively. Those fears are:
What if I don't have anything to say / Can't find the right words / Can't make my point clearly?
What if I panic and am too scared to speak / Start shaking or sweating  / Run screaming into the night?
This exercise can neutralize those fears by contradicting them over and over again. Every time you spend 15 seconds feeling like your Avatar while you make an Instant Speech, you are:
Don't Take My Word for It! You Can Test This Exercise in Just 15 Seconds
If this all sounds too good to be true, it isn't.
Any athlete, any musician, anyone who's ever learned a new skill or trained their bodies to react differently will tell you that small gestures, repeated over and over and over again, can lead to big changes over time.
So what are you waiting for? Pick a time and place to do this exercise (right after you brush your teeth is an obvious one) and start investing 15 seconds, twice a day, in transforming your relationship to public speaking.
You can do this — and it'll be fun!
---
---