Anne Loehr @AnneLoehr has been dubbed "The Generational Guru" by the Washington Post. She is an expert on how people from different generations — Baby Boomers, Gen Xers, and Millennials — communicate and cooperate in today's workplace. As Director of Anne Loehr & Associates, she coaches leaders and their organizations and is a sought-after speaker on talent management across generations. She's also the c0-author of two business books: A Manager's Guide to Coaching: Simple and Effective Ways to Get the Best From Your Employees and Managing the Unmanageable: How to Motivate Even the Most Unruly Employee.
---
What's the One Thing Every Job Interviewee Should Know?
You should know the generation of your interviewer.
Baby Boomers were born between 1946 and 1964, so they're currently between 50 and 68 years old.
Generation Xers were born from 1965 to 1980, so they're between 34 and 49.
Millennials were born between 1981 and 2001, so they're between 13 and 33 years old — though, if you're being interviewed by a 13-year-old, you're in big trouble!
How Are Interviewers from Different Generations Different?
The big difference is that each generation views the world differently. Millennials, who are sometimes called Generation Y, have a very big-picture, macro view of the world. They need to understand how everything fits together before they can see their own piece of the puzzle.
Generation Xers are much more laser-, or micro-focused. They just want to know about their own piece of the puzzle, what their job duties will be. And Baby Boomers are somewhere in between.
What Does That Mean for a Millennial Who's Being Interviewed by Someone from Gen X?
If they run true to type (and not everyone does), the Gen X interviewer will be explaining the role, the job description, and the responsibilities of the position, but leaving out all the big picture context, which will drive the Millennial crazy. And the Millennial will keep saying, "Tell me about the big picture, how does everything fit together?" which will drive the Gen Xer crazy.
You can see, in that instance, how easy it would be for one or both of them to decide that the Millennial isn't a good fit for this job, when it's just that they approach talking about the job's requirements and responsibilities differently.
What If the Gen Xer Is Being Interviewed by the Millennial?
If you're the Gen X candidate, you're going to have to be prepared to step outside your comfort zone. You may bring in a beautifully formatted, bullet-point lists of all the things you've accomplished, and find that your interviewer just wants to ask broad questions about what ties your career together, or how you see your mission.
A Millennial wants you to show some passion for the job, and if you're just asking about salary, sick days, and performance reviews, you run the risk of seeming like you're not a good fit.
OK, How About a 29-Year-Old Millennial Interviewing a 59-Year-Old Baby Boomer?
The good news is that they're both likely to be comfortable with big-picture thinking, and they'll both probably want to change the world, connect, and make a difference. But stereotypes can still come into play. For instance, the Millennial will tend to think that the Boomer isn't tech savvy enough, and can't learn new technology. If you're the Boomer candidate, be ready to demonstrate that you can.
If it's the Boomer interviewing a Millennial, they may think that the Millennial spends all her time on Facebook, and you have to be ready to show that you don't.
So, Basically, Every Generation Has Biases About the Others?
Yes. And the way to deal with that is to be aware that you have generational biases, and you bring them into everything, including interviews.
If you're the interviewer, watch out for those attitudes. And if you're being interviewed, do your homework and make sure you know who's going to be interviewing you. Then go a step further and get familiar with the generational language they speak, so that you can talk in language that they'll be able to take in.
Are You Saying the 59-Year-Old Should Try to Talk Like the 29-Year-Old?
No, that would sound phony. But if you know about each generation's concerns, you can use some of their concepts and words.
I call these "Words that Work," and they're a good indicator of each generation's concerns:
BABY BOOMERS:  We, team, consensus, giving back, causes, making a difference, features and benefits, independence, creativity, freedom, community (meaning: neighbors/institutions)
GEN X: results, metrics, I, what's in it for me?, brand, realistic, pragmatic, devil's advocate, risk, 

play hard, work hard; tell them, "Your interests are being protected."

 MILLENNIALS:  we, team, make a difference, global citizen, technology, balance, innovation, 

continuum (there are no boxes), connecting friends and family, community
Are There Any Cautions About a Generational Analysis?
Yes, you want to be flexible, because this isn't a one-size-fits-all approach. But start by being aware that people in different generations have been influenced by different formative events, and may have very different concerns.
Listen for their language and their values, and take it from there.
---
Want More Help with Job Interviews?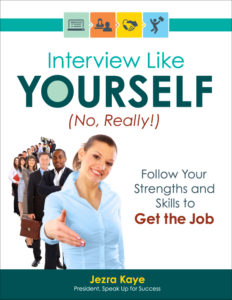 And if you'd like my help with interview prep, just contact me for more information.