After a successful career as an opera singer, Paula switched to executive search and launched Paula Seibel & Associates in 2005. Over the years, she has interviewed hundreds of job candidates in person and by phone to evaluate them for senior-level positions that her diverse clients need to fill. She also coaches job candidates on positioning, interviewing skills, and more.
---
What Do You Look For When You Interview a Potential Job Candidate?
On the phone, I look for people who are crisp. They have a certain energy in their voice, they speak well, and they're articulate and to the point. Crispness makes candidates sound smarter, more compelling.
If I hear someone who sounds sleepy, dull, and bored, I have no interest in them.
Are There Other Things a Potential Candidate Can Do To Lose Your Interest?
I am unimpressed if a person asks about money right away.  A recruiter never wants money to be the motivating factor in a job. You want a candidate who is interested in the opportunity that's going to challenge them or move them to the next step, not just in what they're going to be paid.
Another thing that raises my antennae is when a candidate asks in a surprised or suspicious tone, "How did you find my name?" or "How did you get to me?" Today, anybody can be found; so that question implies a lack of sophistication about the job search process. It also tells me that they've never spoken to a recruiter before.
So, Ideally, What Questions Do You Want to Hear from a Possible Candidate?
If I call someone to assess their interest in a position, here are the types of questions I'd like them to ask:
"What can you tell me about the company—its culture, its health, its revenues?"
"Why is this job available? Is it a new position? Is there a job description?"
"To whom does this role report?"
"Where (geographically) is the position based?"
These questions show thoughtfulness. And, at some point, it's fine to ask about compensation; it just shouldn't be the first question out of your mouth.
What If You Are the One Asking About Their Compensation?
If a recruiter asks you about compensation, they're trying to gauge where you are in your career, how successful you've been, or whether you are in the range of the budgeted salary. It's a turn-off if you decline to answer. And of course, you should never lie.
If you've been with one company for a long time, you're probably making less than you would be if you'd changed companies. In this case it's better to say, "I'm making X, but I should be earning more," and then give the reasons why.
Can You Share Some Etiquette Tips for Dealing with Recruiters?
Sure!
If a recruiter contacts you, say through Linked-In or directly by email, let them know that you're interested in speaking with them, and ask them when would be a good time to talk.
If you're not interested, I recommend that you respond with something like, "Thank you for your email. It sounds like an interesting opportunity. I'm not interested in leaving my company right now, but I may be able to refer other people. Shall we speak briefly?" Recruiters always like it when you give referrals, and this helps build a relationship so that, someday, when you want to change jobs, the recruiter may remember you.
You can also respond with, "I'm not interested in changing jobs right now, but I'd like to send you my resume for your files."  Then you can call that recruiter later, when you're ready to make a move.
When you send a response make sure it is well-written, with no typos or bad grammar.  I always notice how well an email is written and if it is not, I make a big note
Always be nice when you're speaking to a recruiter. We notice when people aren't!
Any Final Advice for Job Seekers?
Before you go in for an interview with a recruiter, do your homework. Read about the company, and have questions based on the job description.
Then the most important thing is to be yourself in the interview. Be in the moment, be who you are, and let your own personality shine through.
Remember: It's great to develop a rapport with a recruiter. Recruiters can be very important to your career!
---
Want More Help with Job Interviews?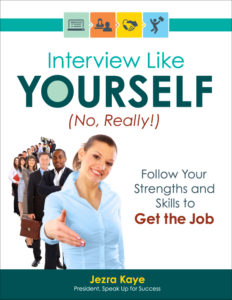 And if you'd like my help with interview prep, just contact me for more information.