To celebrate my book, INTERVIEW LIKE YOURSELF…NO, REALLY! Follow Your Strengths and Skills to GET THE JOB, I invited six top hiring professionals to share their insights and advice about the job interviewing process:
Patrick Mulvey, HR Consultant
Paula Seibel, Retained Executive Search Firm Owner
Rob Duval, Chief Human Resources Officer
Anne Loehr, Executive Coach and Generational Guru, @anneloehr
Jim Hopkinson, The Salary Tutor, @salarytutor
Caroline Ceniza-Levine, Coach, Columnist, and Co-Founder, SixFigure Start®, @prescopresco
Here's what they had to say:
Job interviewing can be stressful, which is why you want to learn from the experts. HR Consultant and Executive Patrick J. Mulvey shares  important advice for everyone from first-time to seasoned job hunters.
When companies have high-level jobs to fill, they turn to Executive Recruiters like Paula Seibel to find the perfect candidate. Paula shares her tips on how to impress a recruiter, so that you'll be ready if your phone rings.
What's the state of the art in job interviewing today? A Chief Human Resources Officer tells you how your job interview is likely to be evaluated.
Anne Loehr is an executive coach and expert on generations in the workforce. Her advice about how to talk to Baby Boomer, Generation X, and Millennial interviewers will help you express your skills and strengths in language your interviewer understands.
If you find it hard to negotiate your salary — or even to imagine negotiating it! — you need Salary Tutor Jim Hopkinson. Here's how to handle the negotiating step, after you've successfully INTERVIEWED LIKE YOURSELF.
Career Expert and Extreme Career Changer Caroline Ceniza-Levine shows you how to manage a job interview when the position you're applying for isn't one that you've held before.
---
Want More Help with Job Interviews?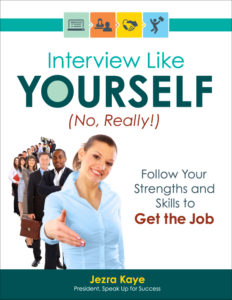 And if you'd like my help with interview prep, just contact me for more information.