Caroline Ceniza-Levine @PrescoPresco is the Co-Founder of Six Figure Start®, a former Fortune 500 recruiter, and a writer, speaker, entrepreneur, and investor. She is a career columnist for Forbes.com and teaches Professional Development at Columbia University School of International and Public Affairs. She has appeared on CNN and CBS, and her career advice has been quoted in BusinessWeek, Money Magazine, Newsweek, NPR, Real Simple, and Success. 
Why Do You Call Yourself an "Extreme Career Changer"?
I went from being a classical pianist, to a strategy consultant, to a retained recruiter, to having my own business. But I also perform stand-up comedy, and I'm producing a science fiction/ horror film.
OK, You've Earned That Title!  So What's Your Best Tip for Other Career Changers?
Whether you're interviewing or networking, you should always focus on what's happening now and in the future.
Most people will focus on the past. Their introductions are built around "I did this, I did that, I worked here, I worked there." And for a career changer, that's awful. It reminds people that you haven't done what you're trying to do now.
But You Haven't Done the Next Thing You Want to Do Yet!
If you're in a job interview, they obviously saw something in your background that suggests that you can do the job. So this is less about defending your choices in the past, and more about the job at hand.
Rather than taking the defensive and feeling like you're coming from behind, you want to be future-focused. You want to say, "This is what you need, and this is the solution; and I happen to have the solution."
So before the interview, think about your skills and experience, and ask yourself, "What am I going to be talking about? What am I going to be working on in the future?"  You want to practice this, you don't want to leave it up to chance.
A Minute Ago, You Mentioned "Introductions."  Do You Mean Elevator Pitches?
An introduction isn't an elevator pitch. It's a way to talk about who you are and what you do that helps you connect or re-connect with people. It isn't selling something.
Say that you go to a party or a social event and run into someone you haven't seen for years:
First, remind the person how you know them:  "I haven't seen you since such and such, that conference, our last reunion."
Then very quickly catch them up to speed. This doesn't mean the play-by-play. It's something like, "Since then, I switched jobs, and now I'm running my own business," or "Since then, I switched to marketing, and now I'm looking for a new position."
If this is somebody you haven't seen for a while and they don't ask you questions about that —  if they don't say right then and there, "Tell me what you're looking for" — let it go for now.
You've lobbed it out there, and they haven't returned it. Wait and try them again another time.
And by the way, being able to introduce yourself is important even if you have a job. If you're interested in people tapping you day-to-day, or helping you get the data you need, or the vendor you need, you have to know how to introduce yourself to people outside your immediate area who don't know anything about you, don't know what you're working on.
So Is Connecting with People the Same Whether or Not You Have a Job?
For job seekers, the pace of networking changes. You have to go more quickly from re-connecting to "let me establish whether this contact is willing and able to help me" to "let me get to a point where I will feel comfortable asking them, and it's not going to seem too abrupt or too imposing."
If you're re-connecting with someone by email or phone, it's the same thing. "I hope you and your family are well. I've left my job at so-and-so, and am now in transition." Then see if that person comes back to you.
Do Men and Women Do This Differently?
Men have it easier in terms of being more direct about what they're asking for, and also in accepting that people are going to ask them for things. They don't see it as a bait-and-switch if a conversation starts off personally and then switches to business.
Women hesitate to say what they need. They're poised on, "Is that the right time?"
---
Want More Help with Job Interviews?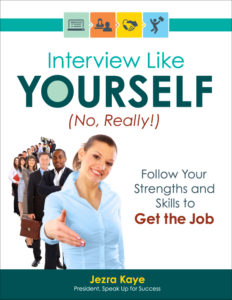 And if you'd like my help with interview prep, just contact me for more information.